Tranquil and very spacious 6-bedroom villa in Quoc Tu Giam Ward, Dong Da District
(ID: 1830)
Ha Noi - in Dong Da
Thong Phong Lane, Quoc Tu Giam Ward, Dong Da District, Hanoi
Located on Thong Phong Lane, Quoc Tu Giam Ward, Dong Da District, Hanoi. It's very easy to go any where famouse place and the center of Hanoi. Land square: 180 sqm (Width: 9m, Length: 20m) with yard in front of and a garden. Useable square: 120 sqm x 3,5 floors containing of 6 bedrooms, 3 bathrooms. For lease: 2,300 USD/month (inclusived Tax) 2,100 USD/month (exclusived Tax)
Key Features
Direct car access
Parking lot
Garden / Yard
Balcony / Terrace
Quiet and safe
City View
Bright
Standing shower
Wooden floor
Sofa - coffee table
Dining table - chairs
Wardrobes
Fridge
Oven / Microwave
Cooking stuffs
Bathtub and shower
Air - Conditioning
Overview
Located on Thong Phong Lane, Quoc Tu Giam Ward, Dong Da District, Hanoi. It's a very convenient location to go any where you will want to visit at least one time when being in Hanoi: 5 min from The Temple of Literature, 10 min from Bay Mau & Ba Mau Lake, 12 min from the Old Quarter and Sword Lake, 17 min from Uncle Ho's Mausoleum and West Lake, …
It's on Southwest side. Land square: 180 sqm (Width: 9m, Length: 20m) with yard in front of and a garden. Useable square: 120 sqm x 3,5 floors containing of 6 bedrooms, 3 bathrooms. Many balconies, having terace. For lease: 2,300 USD/month (inclusived Tax) 2,100 USD/month (exclusived Tax)
Vina House Link
Thuy Nguyen

096 931 6363
Bedroom
Kitchen
Kitchen room is marbled too, very open, connect to the living area, and modern with a counter of cabinet, sink, gas stove, electric hood, refrigerator with freezing compartment, microwave oven…
There is dinning area with a set of large dinning table with 12 chairs. It's charming and traditional with set of pendants above dinning area making you feel warm atmosphere. Of course fully equipped with every things you'll need to have in a contemporary kitchen.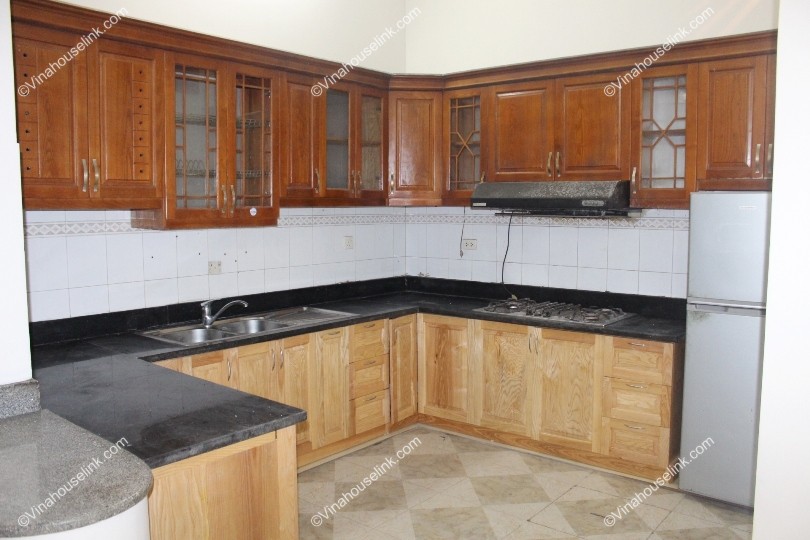 This villa will bring you many amazing benefits:
- Located on Thong Phong Lane, Quoc Tu Giam Ward, Dong Da District, Hanoi. It's a very convenient location to go any where you will want to visit at least one time when being in Hanoi: 5 min from The Temple of Literature, 10 min from Bay Mau & Ba Mau Lake, 12 min from the Old Quarter and Sword Lake, 17 min from Uncle Ho's Mausoleum and West Lake, …
- It's on Thong Phong Lane, that lane is large enough to 2 cars being in together the same time.
- It's on Southwest side. Land square: 180 sqm (Width: 9m, Length: 20m) with yard in front of and a garden. Useable square: 120 sqm x 3,5 floors containing of 6 bedrooms, 3 bathrooms. Many balconies, having terace.
For sale: 23,500,000,000 VND ( about 130,000,000 VND/sqm) approximately 1,000,000 USD.
For lease: 2,300 USD/month (inclusived Tax) 2,100 USD/month (exclusived Tax)
Your opinion is important for us. In order to better serve you and to meet your expectations, we invite you to share your experience and
Submit a review
of your stay in this apartment. We thank you for your cooperation.
Other Properties in the same catalog