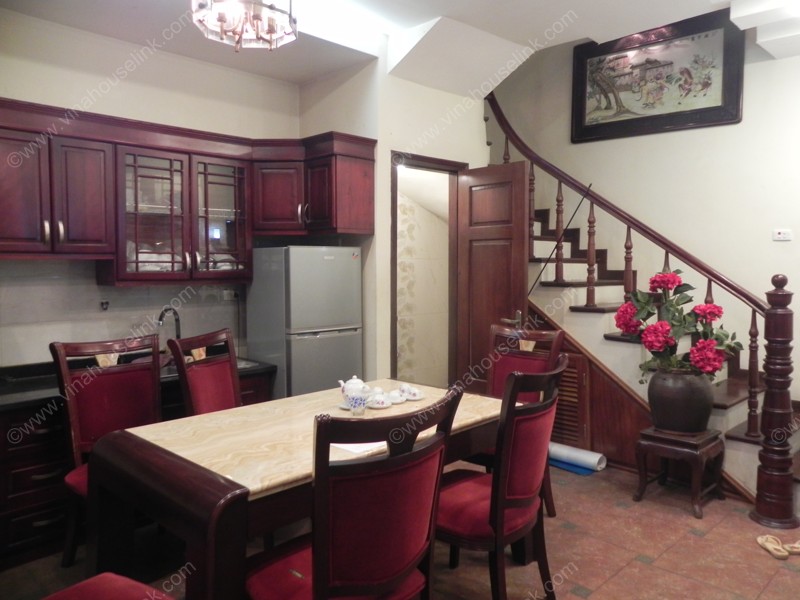 5 floor house on Tran Quoc Toan street very close to Hoan Kiem lake
(ID: 1861)
Ha Noi - in Hoan Kiem
Tran Quoc Toan Hoan Kiem Ha Noi
A small house inside a quiet alley with 5 floors . In between Ba Trieu and Hue Street . Very close to Vincom Ba Trieu , Hoan Kiem lake , Trang Tien plaza
Key Features
| | | |
| --- | --- | --- |
| Parking lot | Quiet and safe | Standing shower |
| Wooden floor | Sofa - coffee table | Dining table - chairs |
| Bed an mattress | Wardrobes | LCD / LED Screen TV |
| Fridge | Washing / Dryer | Oven / Microwave |
| Heating & Cooling | Air - Conditioning | Iron & board |
Overview
Located in a small alley of Tran Quoc Toan street , the house has a very quiet neighborhood . It is in between Ba Trieu Street and Hue Street. Very close to Hoan Kiem lake , Trang Tien plaza , Vincom Ba Trieu , etc .
Vina House Link
Thuy Nguyen

096 931 6363 Using the common style of vietnamese housing , the 1st floor of the house is the kitchen with a big dining table. The equipments are fridge , cooking stuff , electric cooker , microwave and a wash-basin . There is a small toilet under the stairs for usage. The space of the room is enough for parking 2 motorbikes.
Going upstairs are the studio-like rooms with curtain and tivi. The one on 2nd floor is using for living-room which has a sofa , a tivi and a working desk at the corner . Customer can rearrange the place on their own prefer. A/c is available in every room except the kitchen.
The 3rd floor is a small bedroom with a wardrobes and a toilet with standing shower inside. The room has a wooden cabinet and a big mirror for make up. The light isnt too bright in the morning and it is really quiet compare to the first floor.
The 4th floor is also a bedroom with a wardrobes but there is no mirror in the side. It has a couch , a tivi cabinet and a toilet with standing shower on the right.
The rooftop is the place for the washing machine , clothes hanging and work out with some equipments of the owners . It is also equipped with an a/c and enough space to set up few things with your hobby.
Your opinion is important for us. In order to better serve you and to meet your expectations, we invite you to share your experience and
Submit a review
of your stay in this apartment. We thank you for your cooperation.
Other Properties in the same catalog